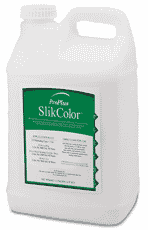 SlikColor™ makes mulch look and shoot better
SlikColor™ is the only concentrated marker dye with the added benefit of a slickifier to improve shooting. It can be used as a marker when applying seed and fertilizer alone, as well as during watering to enhance a job site during dry weather.
• Concentrated marker dye
• Improves visual metering and enhances mulch color
• Slickifier increases the shooting distance of the mulch slurry
Take a wrong turn somewhere? Sharpen your search here.