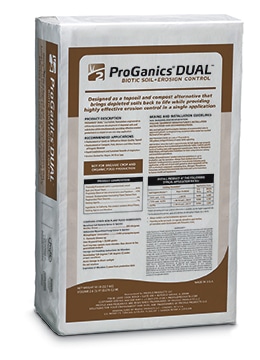 Save time and tank loads while increasing job-site productivity with ProGanics® DUAL™.
In one hydraulic application you get the proven soil-building benefits of ProGanics® Biotic Soil Media™ plus the best erosion control effectiveness among all combination products.
The patented ingredients of ProGanics ignite the nutrient cycling necessary to improve soil health for sustainable vegetation establishment while the erosion control protection of a BFM effectively locks down seed and soil. ProGanics DUAL is a Biotic Erosion Control Matrix (BECM) that is ideal for:
Time-sensitive, large projects with depleted soils and slopes ≤ 2H:1V
Remote or difficult-to-access sites
Complicated jobs where efficiency is paramount to turning a profit
Take a wrong turn somewhere? Sharpen your search here.