Impermeable – GreenJacket®
GreenJacket® IMPERMEABLE covers are engineered to provide high strength, tear-resistant impermeable barrier keeping Mother Natures' elements away from the turf.
GreenJacket®, with Rip-Stop Reinforcement, turf protection system, provides a unique combination of patented products to protect from the harsh effects winter can have on open turf. GreenJacket® IMPERMEABLE covers provide protection against crown hydration, the #1 turf killer in the north. GreenJacket® provides a protective IMPERMEABLE barrier layer against ice damage, as it never reaches the turf! The covers are also effective against desiccation, as the winds are virtually deflected off the GreenJacket® cover and away from the underlying turf. In addition to hydration, ice damage, and desiccation, GreenJackets® regulated light transmission rates are able to minimize temperature fluctuations helping to keep turf dormant during mid-winter warm-ups and control overgrowth in the spring. GreenJackets® unique film qualities have a life expectancy of 5+ years. By utilizing an engineered lightweight film, they are easy to handle, fold compactly, and use a minimal amount of storage space.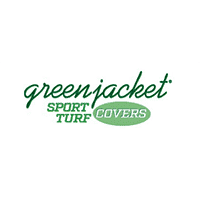 Downloads & Media