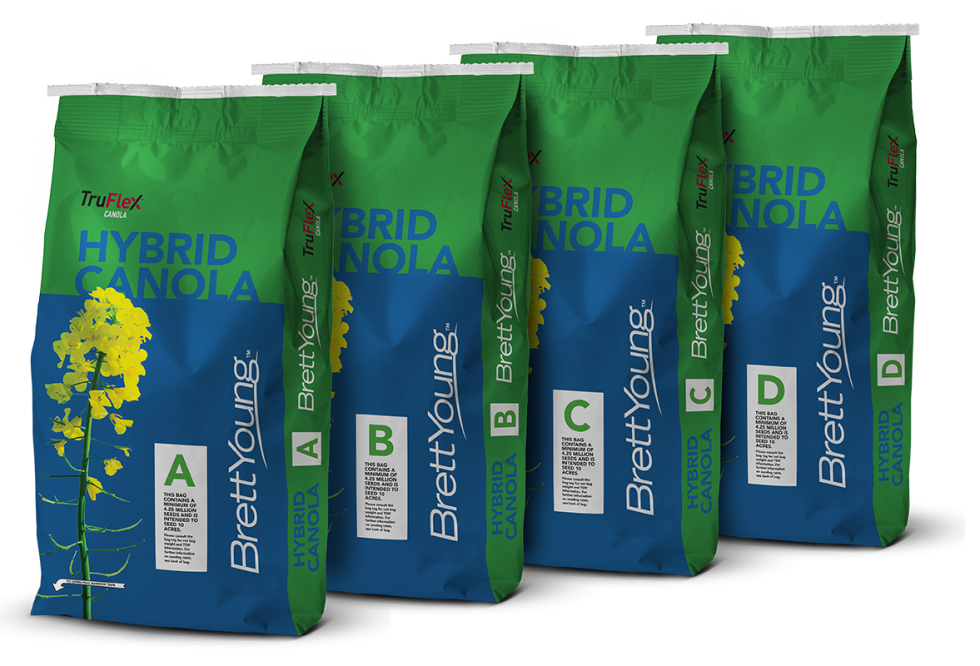 BrettYoung Pilot Launch of Packaging Canola Seed by Seed Count
BrettYoung has launched packaging by seed count (PBSC) for our canola hybrids. This means hybrids are bagged and shipped by seed count rather than weight.
Frequently Asked Questions
Why is BrettYoung moving to a Packaging canola seed by seed count?
Canola seed brands such as InVigor®, Dekalb®, and others are no longer packaging canola seed by weight, but rather have moved to the format of packaging seed by seed count. BrettYoung has chosen to adopt a similar model to remain consistent with industry standards and remove any potential confusion that two different industry packaging models might bring.
How many acres can be seeded with each bag of canola seed?
Regardless of seed size category, every canola seed bag will seed 10 acres and will contain a minimum of 4.25 million seeds. Totes will seed 200 acres and contain a minimum of 85 million canola seeds.
How is seed size measured?
BrettYoung uses the industry standard of measuring seed size by measuring the weight (in grams) of 1,000 seeds. This is referred to as Thousand Seed Weight (TSW). BrettYoung will package canola seed based on the average TSW.
What are the bag sizes I can expect to receive?
BrettYoung uses a fixed bag size model which utilizes four different bag weights to accommodate four different seed size categories. This means that canola seed bag weights and TSW ranges are consistent from year to year. The table below shows the seed size (average TSW) range, and the fixed bag weight associated with each seed size category:

All BrettYoung canola hybrids (excluding exit products) are packaged according to these four different seed size categories and bag weights.
How will I know which seed size category I have?
The seed size category (A, B, C, or D) will be clearly marked on the front and both side gussets of the canola seed bag.
Will I be provided specific TSW information for the seed in the bag?
Yes, the bag tag will display all the additional information that is specific to that bag and the seed contained inside including average TSW, hybrid name, seed treatment(s), lot number, DefendR genetic traits and net weight. The specific TSW will reflect the average seed size after seed treating as certain seed treatment combinations will add weight to bare seed.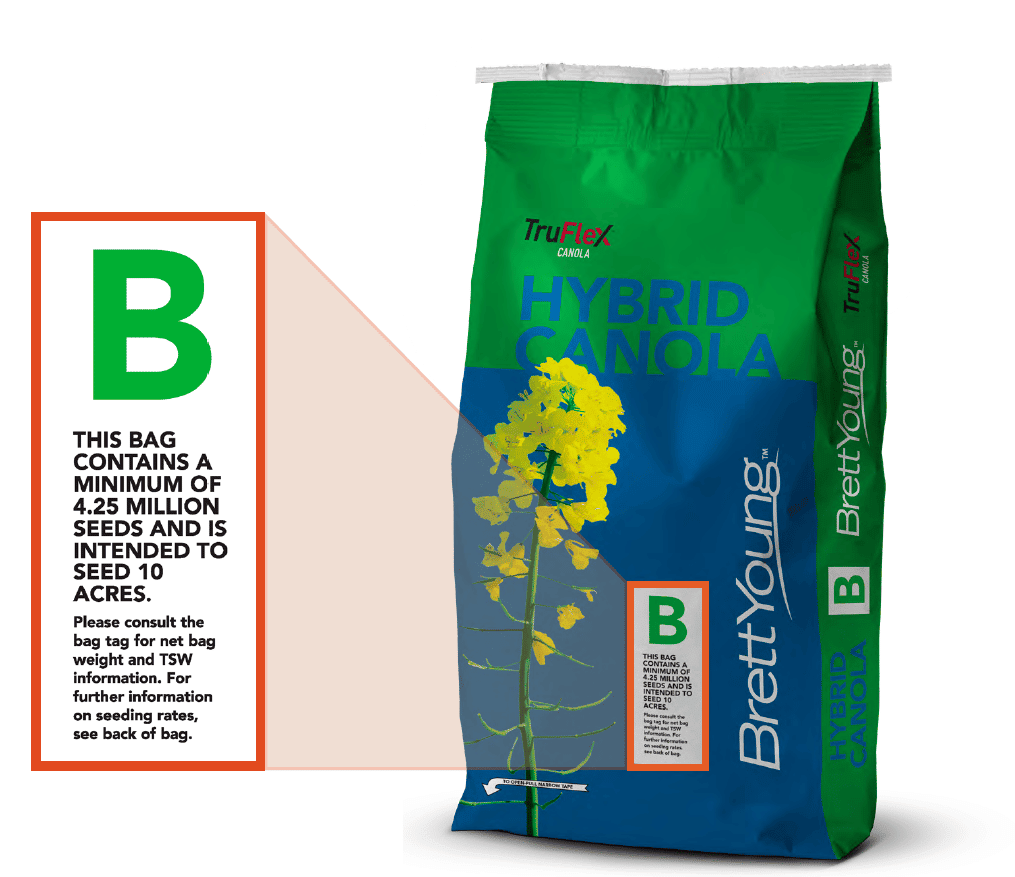 If I seed 10 acres per bag how many seeds per square foot does this deliver and is this number of seeds adequate?
Under this system every bag of BrettYoung canola seeded at the recommended 10 acres will provide approximately 10 seeds per sq. ft. Average survivability of canola seed can vary substantially depending on environmental conditions and other factors, though it typically falls somewhere between 50 and 75%. The Canola Council of Canada (CCC) recommends a plant population of 5 – 8 plants per sq. ft. and recent CCC surveys found that, despite poor seeding conditions in recent years, canola seed has an average of 65% survivability across Western Canada. Seeding 10 seeds per sq. ft. will, under almost all conditions, mean a final plant population within the CCC's recommended range.
What if I want to adjust my seeding rate to something different than 10 acres per bag?
Under certain conditions growers may want to increase or decrease the seeding rate depending on long-term seed canola seed survivability results on their farm, environmental conditions, and the seeding equipment being used (such as planters). Seeding rates can be adjusted based on individual situations. The back side of the seed bag displays seeding rate information (Lb/acre) based on TSW and an expected survivability of 50, 60 or 70%.
Can I order a specific size of canola seed from BrettYoung?
Unfortunately, BrettYoung is unable to accommodate orders for specific seed sizes. Depending on the hybrid, the environment, and location of where the seed was produced it is possible that not all seed size ranges will be available for specific hybrids. BrettYoung makes every effort to ensure the variability of the seed sizes direct shipped to retail locations or specific distribution channels is kept to a minimum.