Features
Active Ingredient
Penicillium bilaii
7.2 x 108 CFUs/ml
Formulation
Liquid
Crops
Alfalfa, Canola, Chickpeas, Corn, Dry Beans, Lentils, Peas, Soybeans, Wheat (spring and winter)
Application
On-seed
Package Size
400 ml, 2 L
When and where to use Recover® PO4
Recover PO4 may always be applied to the seed as part of your overall phosphate fertility program planning.
1. Use Recover PO4 where soil tests show low to medium levels of available phosphate.
If soil tests recommend 10 to 15 lbs/acre of phosphate, just use Recover PO4
If soil tests recommend 15 to 25 lbs/acre of phosphate, apply the lower amount of recommended phosphate and use Recover PO4
2. Use Recover PO4 in fields with high pH and high calcium levels. These soils will more readily tie-up phosphate, so there is more available to be released for crop uptake.
3. Use Recover PO4 to reduce the amount of seed-placed phosphate to avoid any potential seedling damage from seed-placed phosphate applications.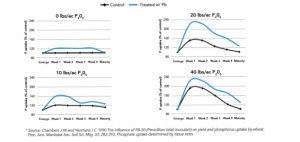 Crop
Units
Units of Seed/ fl oz
Units per container
13.5 fl oz
2.1 qt
Alfalfa
lbs
65
880
4,400
Canola
lbs
60
800
4,000
Chickpeas
100 lbs
14.2
192
960
Corn
BSU (80k)
4.5
60
300
Dry Beans
100 lbs
10
144
720
Lentils
100 lbs
10
144
720
Peas
100 lbs
18
240
1,200
Soybeans
BSU (140k)
20
275
1,375
Wheat
100 lbs
10
144
720
*Planting window for when Recover PO4 is applied to bare seed
**Recommended water volumes are guidelines for adequate seed coverage. When applying Recover PO4 with other products, adjust total volume to be applied to seed accordingly to ensure sufficient seed coverage and proper seed dry down and handling.